San Antonio Water Heater Repair & Installation
Caliente Hot Water has a reputation as the best water heater repair and installation service provider in San Antonio. And we do it with the highest quality and the best price. If you can't be without hot water (who doesn't need hot water every day?) — you need a hot water heater service that you can trust for emergency situations and for routine repairs. We specialize in water heater installation, water heater repairs, water installation services and more. Our family-owned company offers a full line of hot water heater services. We work on gas water heaters, electric water heaters, tankless water heaters, and more.
Water Heater Installation
We offer the best water heaters for every budget and every lifestyle. We do installations for all types of water heaters — whether it is tankless, electric, or gas. We cover everything from hot water heaters to accommodate just a few people or one that will work for a big family needing lots of showers, laundry, and dishes to be cleaned with hot water.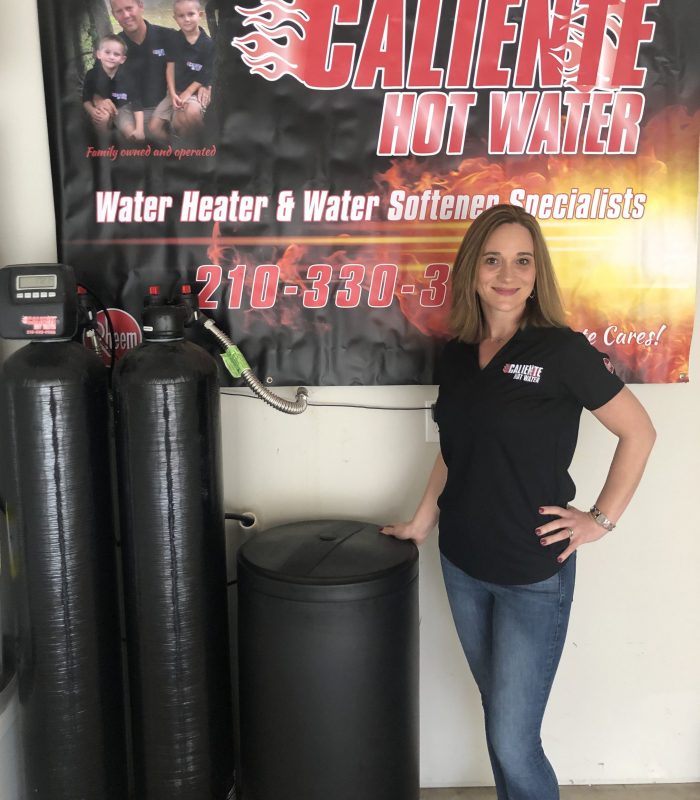 We have experience working with the top names in the industry and only give you the best. But don't worry — if your budget is a concern, we can find the perfect water heater to fit both your needs and finances.
As the water heater experts in San Antonio, we can help you choose the best size and type of water heater for you. All we need is a little information about your water usage habits, the size of your household, and the budget you are working with. We are fully licensed to handle all water heater installations. You can be sure that we will handle the job from start to finish and make sure it is done right the first time. Give us a call when you need a water heater installation.
Water Heater Repair
Hot water is vital to so many daily activities. We're talking about showers, laundry, dishes, and more. With Caliente Hot Water as your water heater service provider, you can be sure that we will respond quickly to any issues that you might have. We can repair electric, gas, and tankless water heaters.
When your water heater starts to lose its effectiveness, we are ready to step in and help. The average hot water tank will last for 8-12 years so repairs or replacement is something that you should expect to deal with a couple of times.
There are some things you can do for your hot water heater to help it run properly. It is important to ensure that there is always two feet of clearance around it. You should also drain about 25 percent of your hot water tank regularly (a few times each year). This will help remove any sediment that has settled inside the tank.
Water Heater Replacement
Ideally, you would have a hot water heater installed, it gets the job done, and you never have to worry about it. Unfortunately, it doesn't always work that way. Sooner or later, your hot water heater will need to be replaced. When that day comes, you can count on us to help you find the right replacement.
There are several things you should consider to help you decide when you need a new water heater. Once your current water heater reaches its 10th birthday, you should start preparing for a replacement. You will know that it is nearing the end of its usefulness so this is a great time to begin looking at your options. This way you won't have a surprise expense on your hands when the day comes that it stops working.
If your hot water seems rusty, that is not a great sign. This might be a sign that your tank is rusting on the inside and could even start to leak. The most clear sign that your water heater should be replaced is when you aren't getting any hot water. This is when you should give us a call to learn about your water heater replacement options.
Caliente Hot Water offers same-day service in San Antonio, Boerne, and the surrounding areas for water heater installation, repair, and replacement. We are available 24 hours a day and 7 days a week for emergency services when you need us the most.
Our technicians are fully licensed and certified. They specialize in quality services to get your hot water system running properly and in a timely manner. You can be sure that we will always find the best solution for your specific situation and then work quickly and efficiently to solve your issues.
Give us a call for a free estimate on all installation, repair, or replacement services. We offer our services at a flat rate that is competitive and we are confident that you will be happy with the service we provide.