Open-Cell Spray Foam Insulation
Open-cell spray foam insulation is an environmentally friendly, spray-in-place insulation that stops air from infiltrating the structure. This gives you significant savings on your energy expenses and increased comfort inside of any structure.
Every homeowner — whether you are building a new home or making upgrades to an existing one — cares about the value and comfort inside the home. This comes through your thermal insulation system. This fact is becoming more and more clear. What else is becoming more and more clear is that regular old standard insulation is no longer the way to go for an efficiently comfortable home. What you need is the type of insulation that significantly lowers your energy spending and provides protection against dust, pollen, and pollutants. That's what you'll get with open-cell spray foam insulation — and at a cost that is not prohibitive.
If that sounds like something that you want to do with your home, give us a call to get started. We can apply low density, open-cell foam insulation in liquid form to your walls, ceiling, attic, or floors. The foam reacts, expands, and cures in place. This forms a fully-adhered, seamless insulating, and air blocking membrane.
The air barrier seals in place to stop air from penetrating. It also dampens outside noise, giving you a peaceful in-home environment. In addition, it contains an anti-microbial ingredient to inhibit mold, mildew, and bacterial growth.
What You'll Get
Economical wall insulation

High

performance

Exceptional value
Make your home energy-efficient and low maintenance with reduced energy required for heating and cooling. These savings will continue for the life of your home.
Install insulation directly to the roof deck and the space underneath the roof. With your HVAC ducts in this kind of conditioned space, you eliminate leakage that causes energy waste. This allows you to take advantage of additional living space. And at very little cost. Plus, this is a tremendous boost to the market value of your home. With all these benefits combined, this is clearly the high-performance insulation solution that you are looking for.
How It Works
The spray foam is a two-part liquid that is formulated from renewable agricultural resources. It is sprayed in place with an environmentally friendly water blown agent by our specially trained contractors. This liquid expands quickly to fill in all the gaps and voids in the space and cures to form a monolithic insulation envelope. It never settles, shrinks, or deteriorates. It's guaranteed to retain R-value and noise reduction for the life of your home!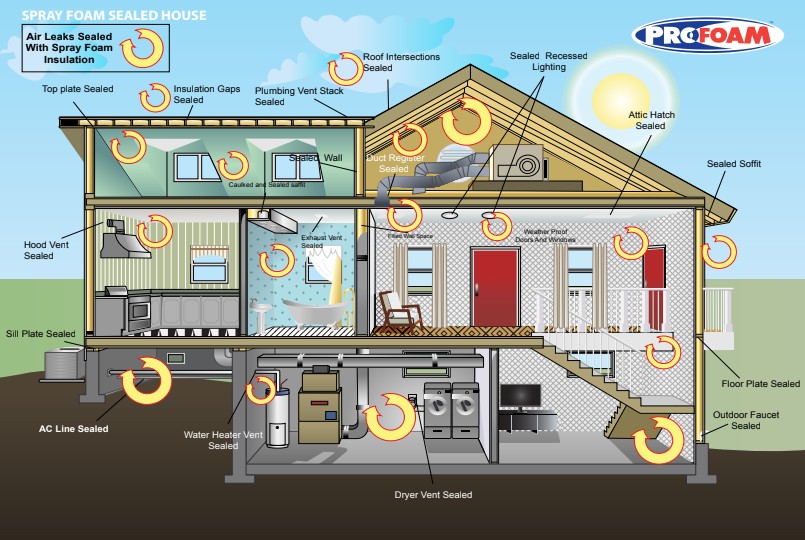 Call To Schedule Your Open-Cell Spray Foam Service
The best thing about open-cell spray foam insulation is that it is a good thing for everyone. This is a great thing for homeowners, builders, and helps the environment too! Win-win-win! Take a looks at all of the benefits.
Homeowner Benefits
Save on monthly energy bills.

Seals wall construction gaps and penetrations,

eliminating thermal bypass.

Improves indoor air quality by keeping out dust

and pollutants.

Reduces your energy consumption, lessening

your environmental impact.

Consistent room temperatures – no drafts, no

cold or hot spots.

Reduces outside noise by creating a seamless

insulated barrier.

Never settles, shrinks, compresses, or sags, and

is guaranteed to retain its insulation efficiency for

the life of the home.

Specially formulated with anti-microbial ingredients

to inhibit mold, mildew, and bacterial growth.

Proven insulating power – spray polyurethane

foam systems have been applied successfully for

over 40 years.
Builder Benefits
Adaptable to uniquely shaped structures and

difficult-to-insulate designs.

Cost-effective and easy to install so you finish a

job under budget and ahead of schedule.

Environmentally friendly, containing renewable

agricultural resources, and using no harmful

ozone-depleting chemicals – ProfoamTM was

awarded the EPA – (Environmental Protection

Agency) Stratospheric Ozone Protection Award.

Environmentally safe application utilizes a water

blown agent.

Creates a fully adhered and monolithic

membrane for a seamless insulation envelope.

Conforms to odd shapes and configurations.

Fills in large gaps, cavities, floors, and ceilings.

Can be applied to the underside of roof decks to

form conditioned or cathedralized attic areas.

Normally unusable attic areas can be

"harvested" by converting them into usable

living space.

Crawl space insulation may be installed in a non-vented configuration for greater energy savings.

ICC Code compliant with the provisions of the

International Building Code (IBC), International

Residential Code (IRC and the International Energy

Conservation Code (IECC).

Installed by trained and highly experienced

ProfoamTM contractors.
Call To Schedule Your Agricultural Spray Foam Service
Our team is standing by and ready to assist you with any spray foam insulation questions or concerns you may have. Call us today to make an appointment for the finest services in the San Antonio, TX area. We provide friendly services and quick solutions. Call (210) 330-3000 to schedule an appointment. Or you can learn more about spray foam on our FAQ page.