We have a trained team that is ready to help you improve your living space with crawlspace encapsulation in San Antonio. This process includes waterproofing, vapor barrier installation, and crawlspace insulation. By using spray foam to encapsulate your crawlspace, you'll have a moisture-controlled environment.
No longer will your home be susceptible to unpleasant smells, mold, or other problems that can easily pop up inside a crawlspace. The installation of a vapor barrier to your crawlspace floor and walls will keep moisture (the source of bad odor and mold) out. It will be a huge relief to anybody that has to deal with allergies, asthma, or other related issues. Improving air quality can help with many of these issues.
The Proper Way To Encapsulate A Crawlspace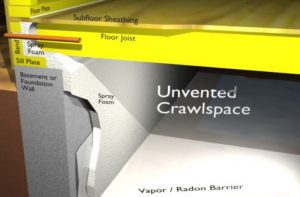 Crawlspace encapsulation is the process of separating the area underneath your home from the living space inside your home, building envelope. When this process is done the right way, it stops air from passing from your crawlspace into your living space. Plus, it creates a healthier environment to live in. Think of your crawlspace as a mini-basement. This is how it should be designed and constructed. The floors should be uninsulated. Ground vapor should be sealed. Walls should be insulated. Air should be sealed. And the air should be dehumidified. Normally, your vented crawlspace is damp, moldy, and may even be inhabited with pests. There are probably air leaks as well. Following the steps below will give your crawlspace durability and air quality.
How To Convert A Crawlspace To A Sealed Insulated Space
Check for moisture: Some crawlspaces need to be prepared before encapsulation. Any standing water, mold, drainage issues, or backdrafting from combustion appliances needs to be taken care of first. Interior footer drains and sump pumps may need to be added before encapsulation can be done.
Install a vapor barrier: The next step is to seal off the ground to stop moisture and harmful gases, such as radon, from getting into your crawlspace through the soil. The best way to do this is to add a minimum 10-mil vapor barrier to the ground with sealed seams. Then attach it to the walls with foam or fasteners.
Seal & insulate the foundation wall: Now we need to seal any vents and openings to the outdoors. This is when we add closed cell insulation to the crawlspace walls. This will seal and insulate the foundation walls. Spray foam also limits vapor drive from going through the block, brick, or framed walls. Any termite viewing strips will be left.
Seal & insulate rim joists: The final step is to seal any gaps and cracks with closed-cell foam. This includes band joists, AC drain line runs, plumbing penetrations, etc. We ensure that any gaps between the crawlspace and the floor of your home are sealed.
Benefits Of Using SPF In Unvented Crawlspaces
Ensuring that these climates do not don't mix as the seasons change. When heating turns to air-conditioning (or the other way around), PROFOAM is unaffected by the reversal of moisture drives. This solid cellular plastic material spray installed between the studs in your wall adheres to all it touches — creating the environment that insulation was meant to be.
SPF saves energy. This is through reducing the amount of air leaking in or out of your crawlspace. When your crawlspace is sealed, it will stay much closer to the temperature inside of your home.
SPF reduces any chance of freezing pipes. This is because a sealed and insulated crawlspace maintains a warmer temperature. Thus, lowering the chance of frozen pipes.
SPF lowers humidity. By sealing the ground and getting rid of foundation vents, the most common sources of moisture getting into the crawlspace are eliminated.
Call To Schedule Your Crawlspace Encapsulation
Our team is standing by and ready to assist you with any crawlspace encapsulation or spray foam questions you have. Call us today to make an appointment for the finest services in the San Antonio, TX area. We provide friendly services and quick solutions. Call (210) 330-3000 to schedule an appointment. Or you can learn more about spray foam on our FAQ page.