Agricultural Spray Foam Insulation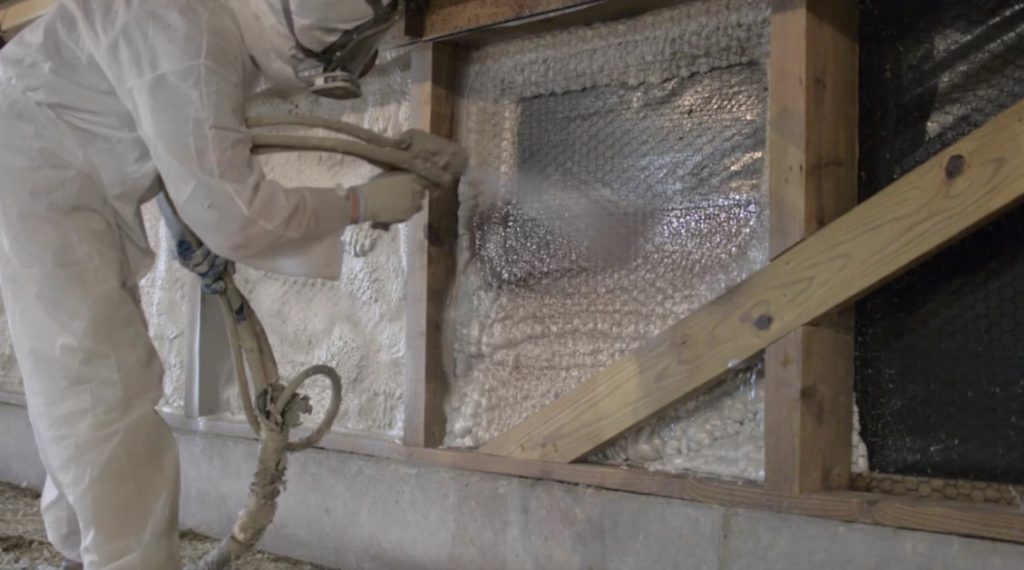 Image courtesy: http://www.profoam.com/portfolio/spray-foam-training-videos/
How Spray Foam Helps The Agricultural Industry
Every business owner is looking for the same thing. That is to find ways to cut their operating costs without losing any quality in the products they produce. Agricultural businesses are no different.
Costs are on the rise for heating and cooling of cold storage facilities, poultry houses, equine barns, swine barns, and other agricultural buildings. It is a problem that is not going away. Agricultural spray foam insulation cuts those costs significantly — providing the solution you are looking for.
An investment in agricultural spray foam gives you a lot. You'll see an increase in energy efficiency, a reduction in operating costs, and an increase in farm production. Spray foam does this by providing a barrier for air and moisture. This keeps the air and moisture you want inside and prevents the air and moisture you don't want outside of the building. In addition, there are some situations where spray foam even adds structural integrity to the building. This is helpful for metal and wooden structures. The long-term savings that come from agricultural spray foam far outweigh the cost of installation!
Agricultural spray foam insulation is a two-part system that should only be applied by highly-trained applicators. It is put on in liquid form and quickly fills the cracks and crevices before it begins to expand. It sticks to any surface that is clean and dry, creating a seamless insulating system.
The structure becomes sealed to prevent any moisture penetration and has a low water vapor permeance — controlling moisture vapor movement. The movement of air is also blocked.
Benefits Of Agricultural Spray Foam
Spray foam helps any property owner to be more energy-efficient and cut costs. This is especially true for those who have agricultural buildings. Here are several benefits that you ought to consider about having spray foam added to your buildings.
Saves considerably on monthly energy bills.

Provides superior R-value per inch, reducing both heating and cooling costs.

Creates an air barrier that eliminates leaks and energy loss.

Controls moisture to help prevent mold and mildew.

Reduces your energy consumption, lessening your environmental impact.

Provides consistent temperatures – no drafts, no cold or hot spots – for better production by poultry and livestock and less loss of stored harvests.

Provides blackout – available in black to provide blackout conditions that have been shown to improve growth rates in poultry.

Contains renewable agricultural resources.

Never settles, shrinks, compresses, or sags, maintaining its insulation efficiency for the life of the structure.

Strengthens walls and increases overall structural integrity by adhering and bonding to the wall surface.

Dampproofs by creating a seamless membrane between the inner and outer walls.

Has proven insulating power – spray polyurethane foam systems have been used successfully in agricultural applications for 35 years.
The University of Georgia Cooperative Extension Service even performed a study to show these benefits. One house was converted to being completely enclosed with spray foam insulation.
In November, chickens were placed on the farm and it did not take long for the benefits to show. The time the heating system was running dropped dramatically. The temperature inside the house was more evenly distributed, which kept the chickens more spread out. Not only was the heating cost reduced, but the bird mortality was half of that of the other houses.
Uses Of Agricultural Spray Foam
If you are looking to cut costs for your agricultural buildings, you are in the right place. Check out these ways it can be used for your benefit.
Metal Buildings, Pole Barns, Sheds, and Structures — Virtually any building gets better with this type of insulation. This includes general structures, workshops, and storage buildings. Your work areas will be at a more comfortable temperature and it even reduces noise levels.

Liquid Storage Tanks — Did you know that spray foam can be used directly on storage tanks? It is the perfect choice to safely store water, fats, and oils, or slurries.

Cold Storage and Freezers — Spray foam can be used in the design and construction of your cold storage facilities. It's great for storing fruits, vegetables, and any other perishable food items. Your food will be stored at a consistent temperature without moisture penetrating the storage containers.

Poultry Houses — As the study indicates, any poultry house can be upgraded. With the elimination of air infiltration, tunnel fan operation increases. Structural integrity increases. It can be formulated and applied in black to create blackout conditions.

Grain Storage and Silos — Control the dust and moisture issues that can plague your grain and animal feed storage. The sealed seams and cracks on the bins provide reinforcement for your goods. Another benefit is that it is a great defense against insect migration.

Livestock Housing — Spray foam can be used to insulate dairy barns or milk houses, swine holding or farrowing houses, horse barns, and cattle barns. The temperature control reduces the stress levels of livestock that can be caused by extreme temperatures.
Call To Schedule Your Agricultural Spray Foam Service
Our team is standing by and ready to assist you with any agricultural spray foam insulation questions or concerns you may have. Call us today to make an appointment for the finest services in the San Antonio, TX area. We provide friendly services and quick solutions. Call (210) 330-3000 to schedule an appointment. Or you can learn more about spray foam on our FAQ page.